Various Snacks
The best dog snacks that makes your dog say WOOF every time again
Dog snacks help reinforce the special bond between you and your four-legged friend. Your dog will jump for you with delicious Antos snacks that help him or her stay healthy and happy. These premium quality snacks are tasty treats that satisfies and nourishes in every bite. Our range of Antos snacks come in all sorts of bones and sticks, so it is easy to find the perfect snacks for your canine.
Dog Snack Specialities
Nutritious and wholesome snacks for your dog's enjoyment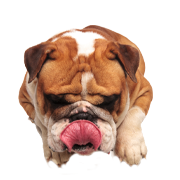 Does dogs love tasty snacks? Why not give them an Antos snack? Sometime simple can be the most satisfying, give them superb snacks that will promote positive chewing behaviour. The Antos
dog snacks
are a responsible addition to the daily food. From the tasty meat sticks and the delicious Chicken sticks and Tripe sticks. For every dog a perfect favourite!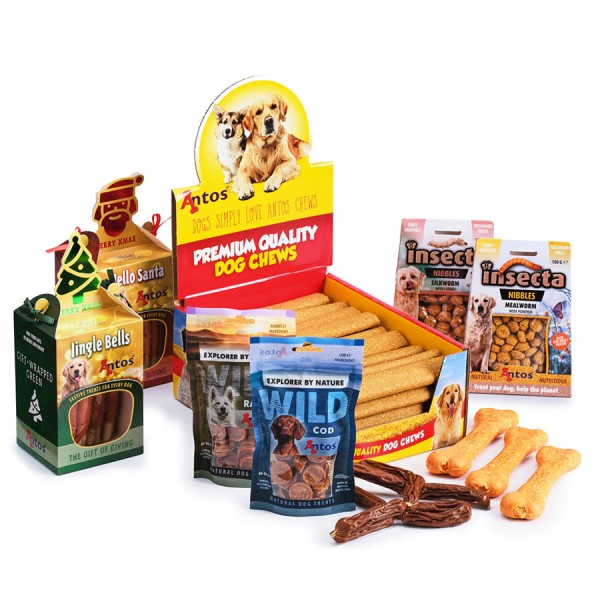 Various Snacks
Discover our products
VARIOUS SNACKS
Treat, train and reward your dog with delicious snacks. Dogs love our tasty flavoured
Chicken Sticks
. These meaty treats are made with high quality ingredients for an irresistible flavour. Ideal for feeding as a daily treat or reward between meals. The Chicken Sticks are a complementary feed, satisfying your dogs natural urge to chew. Our Meaty Bones are perfect for the most energetic of chewers. These rawhide bones are long-lasting, high in protein and low in fat. Your dog will love this tasty, yummy bone. Made from 100% natural rawhide, this
chew
is both hard and durable and comes in a choice of flavours and sizes.
Meaty Bone Dental
is made from ground rawhide with added mint flavour to support clean teeth and fresh breath with every bite. The bones are highly digestible and do not contain any cereals, sugar or chemicals. Dogs love dried fish snacks, the delicious smell and its crunchy bite. Freshly caught in The Netherlands, our crunchy
Cod Sticks
and
Plaice Sticks
are turned into tasty and natural dog snacks. The delicious
snacks
are a great nutritional treat for your dog and have many health benefits too. Dogs will really enjoy the strong flavour and each stick is about 18 cm long for plenty of chewing pleasure. The single-ingredient treats can also be broken up in smaller pieces for training or sprinkled over your dog's food for added nutrients. Rich in heart-healthy fats, these tasty treats are natural source of omega 3 fatty acids and lean protein.