Dental D'light
Make dental care a priority
Reward your dog with a fun snack that delivers essential health benefits when you give him Dental D'light treats. These delicious, tasty treats have a unique shape that helps scrape away plaque and tartar while chewing for cleaner teeth and fresher breath.
Dental & Vegetarian Dog Chews
Keep all 42 teeth pearly white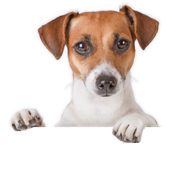 Dogs need dental care just like humans do. In fact, dogs can get dental problems if their teeth are not taken care of properly. It's important to give your best friend daily dental dog chews to keep your dog's teeth healthy and clean. Our dental and vegetarian dog chews are designed to clean your dog's teeth and gums. The treats are available in various shapes and sizes to suit all dogs.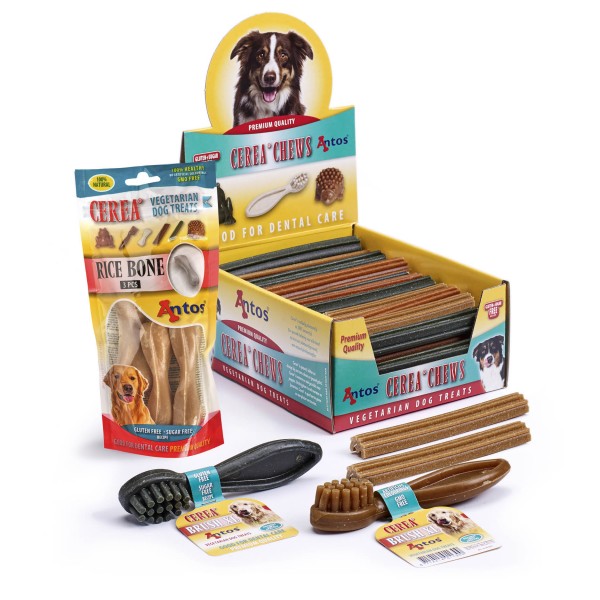 Cerea
Fun to feed, healthy to eat
Dental D'light
Make dental care a priority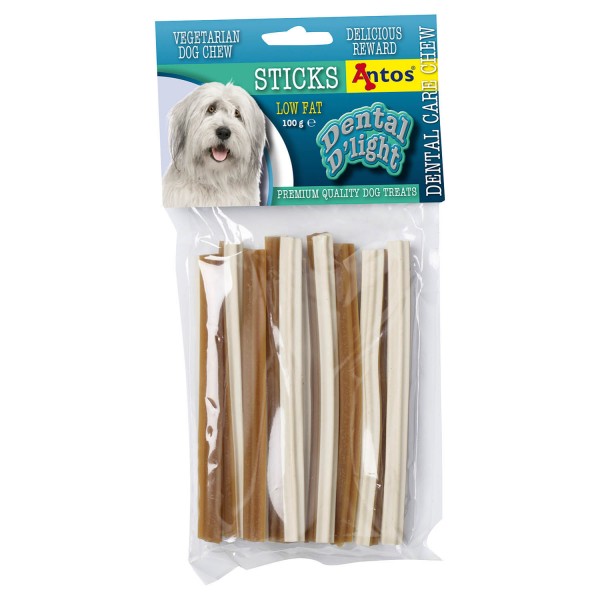 Farm
The taste of natural living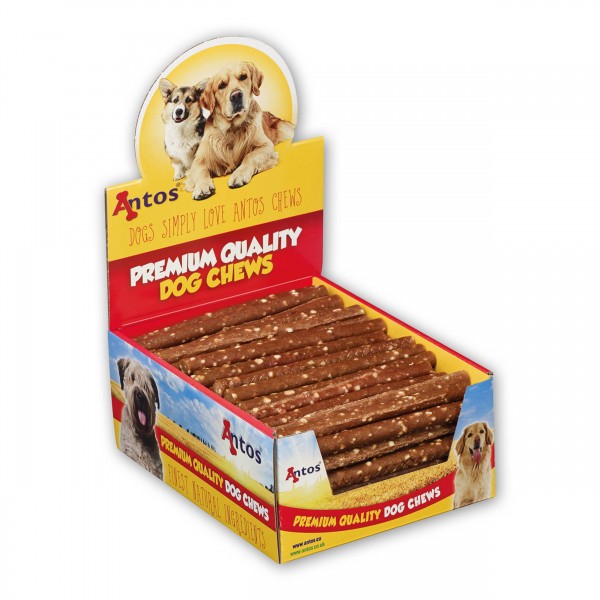 Dental D'light
Discover our products
DENTAL D'LIGHT
Dental, anyone? Clean those teeth! February is Pet Dental Health Month, and a good month to peer into your dog's mouth and see what's going on inside. Just like humans, dogs need daily brushing and regular teeth cleaning to stay healthy. Brushing your dog's teeth is a great way to keep their smile healthy and bright. Choosing dental dog treats is vital to your dog's dental and overall health and happiness. Chewing is a great way to exercise his jaws and clean his teeth of debris. Our Dental D'light dog treats are specifically made for cleaning doggie teeth. When your canine companion sinks his teeth into one of these tasty treats, it will help scrub away plaque and tartar buildup. The
Dental D'light Bones
and
Dental D'light
Sticks
are completely vegetarian with wheat starch as first ingredient. The bones with approximately 24 vegan dental care chews are ideal as a quick and enriching treat. Dogs need a careful balance of calcium and phosphorus for strong bones and healthy teeth. Your dog will love chewing on these bones and sticks and you will love knowing they are great for their teeth and healthy too. And if your worried about your dog consuming rawhide or real meat bones, Dental D'light are vegetarian dental treats. Chews wisely!